History
Established in 1952, Boat race Wakamatsu started its first race on 11th of November in that year. SG race, "All Japan championship race" (presently called as boat race Derby) was successfully started. From the year, 2004 onwards, this is the first nighter motor boat race course, which was held in the western Japan.
Location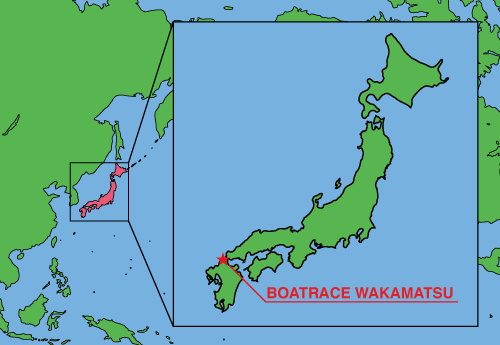 It's located in Kitakyushu city, west side of Japan. In the past Kitakyushu city was flourishing as industrial town, however currently the city is noticed for its environmental advancement. Boat race Wakamatsu is filled with sea water on its surface and once was used to be deeply polluted by factory water. However, with continuous effort in cleansing the water surface, now it's glittering clean with night lamps illuminated beautifully.
Characters

These characters were designed based on ancient monster by the name, "Kappa" which is famous in Wakamatsu ward of Kitakyushu city. The Kappa family was named by "Kappa-kun" the father character, "Hime-chan" the mother character, "Waka-chama" the brother character and "Kohime-chan" the sister character.
Facilities
The facility of boat race Wakamatsu, which floats illuminated in the night darkness, is extremely fantastic. It has various places where large number of people can enjoy such as: an event hall used to conduct various events, a bright and open east stand which was renewed in 2016, and royal seats where spectators can comfortably view the race.  For details, please check Facility Introduction page.
[TOP]